Board Director Job Description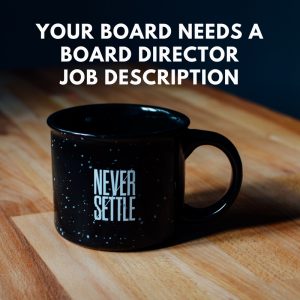 On every board there are one person who seemingly does all the work. They volunteer for every committee, they show up to every event outside board meetings, and are a constant presence at the organization. This person may feel that they alone are pulling all of the weight of the board, while, alternatively, the rest of the board may feel insecure about their level of effort. A board job description is a great way to give all board directors a baseline of their expected contributions.
Part of the Recruiting Process
Give your board job description to your board recruits when you first approach them to join your board. This document will give recruits an idea of the time commitment, the expectations for board directors, and any revenue generating requirements. The job board description is a great way to introduce recruits to your organization and answer any questions that recruits historically have about board service.
What to Include
Recruit new board directors in a similar way you would recruit a job applicant. As a board, you have an expectation for certain skill sets and eagerness to perform those duties as a board director. While there is no wrong or right way to put together your board job description, at a minimum, you should include the mission of the organization, the expectation for time devoted to the position, the length of tenure, and expectations about participation and revenue generation for the organization.
Measuring Success
The board job description can be used as a baseline to judge current board director engagement in an effort to reevaluate his contributions to the board. Use the board job description to highlight board directors who are meeting the minimum requirements, those who are exceeding expectations, and those who are falling behind. For those who are falling behind, take time to understand if their life circumstances have changed and whether that board director needs assistance fulfilling their board responsibilities, or whether it is time for them to move on to other endeavors.
The board job description is a great tool to communicate with prospective board directors and gauge the participation levels of current board directors. For more information on board governance and board diversity, follow along on Twitter or Instagram. Nikki McCord is the founder of McCord Consulting Group, the only choice for organizations looking to energize, innovate, and diversify their Board of Directors.