Let's Party!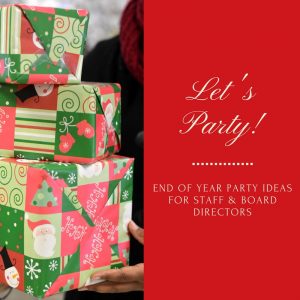 Your board directors do a lot of the organization and the annual end of the year Holiday party is a great way to say 'thank you' for their service. Invite your board to participate in your organization's end of the year celebration so that board directors can interact with staff in a relaxed and comfortable setting. Below are three out of the box ideas for your end of year celebration that will be memorable and fun for everyone attending.
Dinner in a Private Space – Big Budget
A private dinner for the office is a tried and true event. It's nice to see your co-workers and their significant others dressed up for a night at a fancy restaurant. Consider your seating arrangement in advance so that board directors are dispersed among staff so that the board is not just sitting together. Invite a local singer to entertain after the dinner is over as guests are leaving for the night, encouraging a sing-a-long of holiday favorites.
Escape Room – Medium Budget
A trendy, outside of the box party idea is having your staff and board directors participate in an escape room exercise. From wikipedia, "An escape room is a physical adventure game in which players solve a series of puzzles and riddles using clues, hints and strategy to complete the objectives at hand. Players are given a set time limit to unveil the secret plot which is hidden within the rooms. Games are set in a variety of fictional locations, such as prison cells, dungeons and space stations, and usually the various puzzles and riddles themselves follow the theme of the room." Board directors should be on teams with staff to solve the riddle and escape the room. Throw in a few cocktails, and you have a fun, new way to interact with members of the Board and staff.
Cookie Exchange – Small Budget
Not all organizations are able to spend big dollars on an end of the year party. Close the office early and invite staff and board directors to a cookie exchange. This is a low cost way to reward staff with a shorter work day and create rapport between the board and staff. Hold a contest for the best tasting and best decorated cookies. Although you might still be in the office, kicking up your feet and talking to board directors and staff in a kicked back setting lets everyone get to know each other in a different way.
For more information on board governance and board diversity, follow along on Twitter or Instagram. Nikki McCord is the founder of McCord Consulting Group, the only choice for organizations looking to energize, innovate, and diversify their Board of Directors.