Don't Pull any Tricks When Supporting Diversity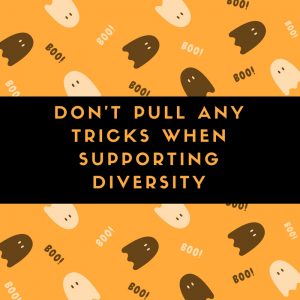 It's October so it's on point to talk about tricks and treats.
In August, Black Girls CODE was presented with $125,000 from Uber. Uber is currently in turmoil after allegations of institutional workplace sexual harassment, senior executives fleeing the company, and the departure of former CEO Travis Kalanick who is accused of not addressing the company's culture of alleged sexual harassment. After publicly stating that they were looking for a female CEO to take the reigns and right their ship, the company instead chose another man, Dara Khosrowshahi, former CEO of Expedia. Many outsiders have been critical of the allegations of sexual harassment and are skeptical of how the former Expedia CEO is going to fix many of the company's public image problems. However, before Khosrowshahi was named CEO, Uber took it upon themselves to make a game changing gift to an influential nonprofit, Black Girls CODE.
Black Girls CODE introduces computer coding lessons to young girls from underrepresented communities in programming languages in order to prove to the world that girls of every color have the skills to become the programmers of tomorrow. The generous donation of $125K was turned down by Black Girls CODE founder Kimberly Bryant. She says in part, "Yet their past history and 'political' nature of maneuvering is and was troubling." Ms. Bryant is diplomatic. Based on what other women in tech have stated, women want Uber to fix their own problems before being charitable.
Hey Uber, how about you give financial restitution to the employees that were harassed, discriminated, and retaliated out of their jobs? https://t.co/EzYFhkusNp

— Susan J. Fowler (@susanthesquark) August 24, 2017
The grand donation of $125K was simply a publicity stunt to take focus from Uber's myriad internal issues. Uber was simply trying to trick the public with its treat of $125K.
It must have taken some chutzpah for Ms. Bryant to turn down a significant donation that would have greatly helped the organization. However, Ms. Bryant's audacity was noted, and ultimately rewarded. After news broke that she turned down the donation, others in the tech community stepped up and Black Girls CODE received donations totaling $154K!
What does this lesson mean for your board? First, if your organization is going through a public crisis, your board needs to be extra careful about the actions it takes and how the actions and organization will be perceived by the public. If I would guess, there were no black women who were consulted before the $125K donation was made. If so, they would have been able to articulate how black women would perceive the gift in light of all of Uber's other problems. Second, always remember that diversity is not a gesture. It is a tenant that must be truly embraced before executed. Ask yourselves why it's important for your organization to embrace diversity. Do you want to diversify because it's something that employees, constituents, and shareholders are asking you to embrace in a thoughtful and meaningful way? Or, are you looking to diversify because you're responding to critics? Spend time with experts in diversity who can help you navigate the situation in a way that causes no further damage to your organization's reputation. Ultimately your duty to the board and to the organization is to advise executive staff on ways to steer the organization based on your experience and skills. Take this responsibility seriously by weighing all options and opinions when a grand gesture like this is made so that your organization only gives out treats and never tricks.
For more information on board governance and board diversity, follow along on Twitter or Instagram. Nikki McCord is the founder of McCord Consulting Group, the only choice for organizations looking to energize, innovate, and diversify their Board of Directors.