Happy Birthday, McCord Consulting Group!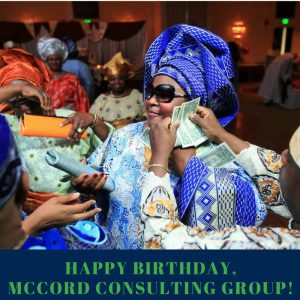 Photo Credit
Every month I try to give you practical tips to energize and diversify your Board of Directors. But, this month's post is all about self promotion.
I want you all to give a big Happy Birthday cheer to McCord Consulting Group! Today, MCG turns 5 years old! According to the Bureau of Labor Statistics, 75% of new businesses survive the first year, 69% survive the first two years, and 50% make it to five years. Well, this month McCord Consulting Group turns five years old and I couldn't be happier!
I have each one of you to thank for the success of McCord Consulting Group! I didn't know that entrepreneurship would be a part of my career master plan, but I couldn't be happier that I took this leap of faith. There have been some tears, missteps, and blunders. But there has been even more growth, tenacity, and confidence gained these past years.
There's a particular African-American birthday tradition that I absolutely love. It's called Pin A Dollar. It's adapted from the Nigerian Money Dance. Black Americans added the pin to keep track of the dollars! On your birthday, a friend pins one dollar to your shirt. Then, more friends, family, and strangers you see all day each give you a dollar that you add to the pin on your shirt. So, in the spirit of Pin A Dollar, I'm inviting you to pin a dollar on McCord Consulting Group's virtual shirt to celebrate its 5th birthday [cash.me/$McCordConsult]. Don't have a dollar to give? An even better birthday present would be for you to schedule a free, 15 minute phone consultation with me that leads to hiring McCord Consulting Group to assist your organization's Board of Directors in its governance, recruitment, and diversity needs. You can schedule your phone consultation by emailing me at Nikki@McConsultGroup.com.
In closing, I want to say thank you from the bottom of my heart. Thank you for encouraging me when I wanted to give up. Thank you for recognizing my talent and hiring me as some of my first clients. And thank you for trusting my knowledge and skills. I couldn't have done it without YOU! Check back in 2023 for my next self promoting milestone post in year 10!
Happy 5th Birthday, McCord Consulting Group!
For more information on board governance and board diversity, follow along on Twitter or Instagram. Nikki McCord is the founder of McCord Consulting Group, the only choice for organizations looking to energize, innovate, and diversify their Board of Directors.