How to Be an Ally Resources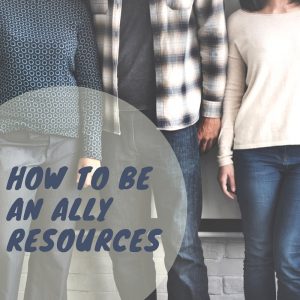 I was honored to be asked to present a webinar for XY Planning Network titled How to Promote Diversity within Your Organization. XY Planning Network is the leading organization of fee-only financial advisors who are dedicated to serving the needs of Generation X and Generation Y clients. At the end of the webinar, I was asked to provide additional resources for people to access to learn more about how to be an ally to specific groups. These resources are great for any organization whether it is your workplace or your Board of Directors. I'm excited to share them with you this month.
Race 
NPR Code Switch – Lifted word for word from their website, "We're a team of journalists fascinated by the overlapping themes of race, ethnicity and culture, how they play out in our lives and communities, and how all of this is shifting." NPR Code Switch is a great way to learn about race from smart people of color who relate to the world by way of different perspectives.
Women
The National Center for Women in Technology may give advice that is directed towards the tech industry, but let's face it, most industries are dominated by males. So, if you're a male in a male dominated industry and you want to be an ally to your female co-workers, check out: Start Small, Start Now: Seven Bias Interrupters Male Allies (Or Anyone Really) Can Start Using Today
LGBTQIA
When those in majority populations want to learn about allyship, it's important to listen to the affected communities first, to understand what allyship means to minority populations. Jenn T. Grace identifies as a lesbian and has some good tips about what allyship means to the LGBTQIA community and what being an ally to a community in which you do not belong means as well. http://jenntgrace.com/ally-community-dont-belong-podcast/
Millennials
Sometimes there's no set of instructions on how to be an ally to a particular group. If you've ever had a language immersion experience, you know that best way to become proficient in the language is complete exposure. The same can be said about millennials. Check out the podcast Back to Work, which talks about work and life from a millennial perspective.
Veterans
VET NET Ally Program  – I like this resource because it talks not only about veterans and military families transitioning to academic and professional life, but there is also a component about allyship. http://www.smc.edu/StudentServices/VeteransResourceCenter/Pages/Vet-Net-Ally.aspx
People with Disabilities
This article on Mashable gives practical tips on how to be an ally to people living with disabilities. Check it out here: https://mashable.com/2015/07/26/disability-ally-inclusive/#8vA44ERMeaqo
For more information on board governance and board diversity, follow along on Twitter or Instagram. Nikki McCord is the founder of McCord Consulting Group, the only choice for organizations looking to energize, innovate, and diversify their Board of Directors.