I Spoke A Lot Last Month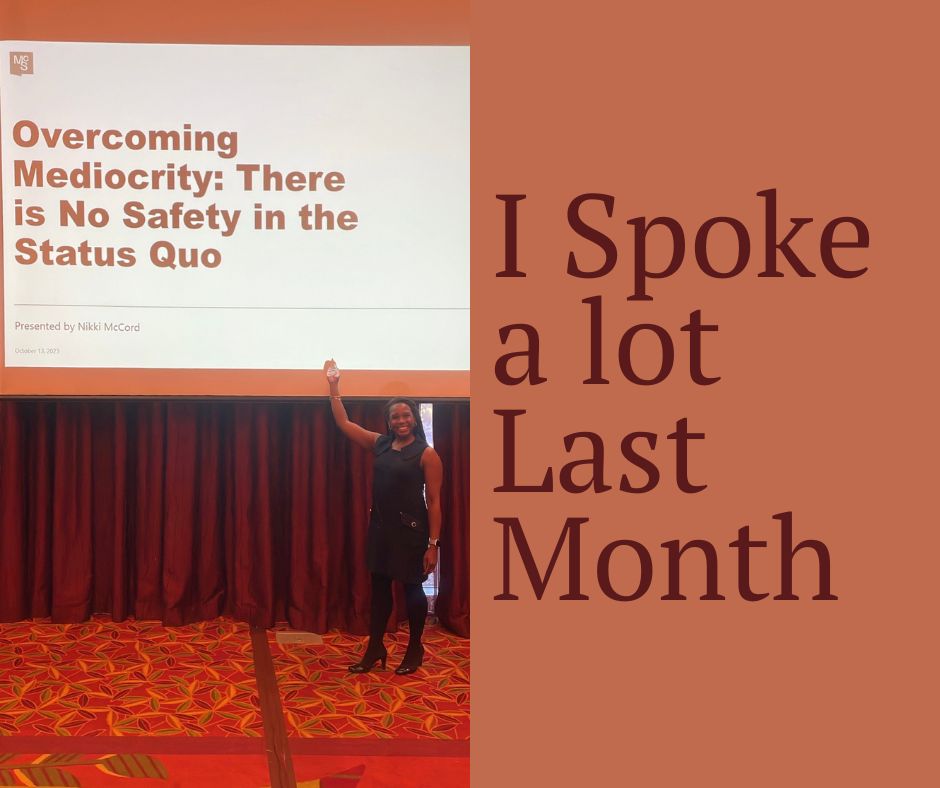 Last month was busy! I spoke before three different audiences, even speaking twice in one day! I began the month speaking at the Rocky Mountain Young Professionals Summit. The theme was Connection From the Inside Out. As the keynote speaker, I spoke to attendees about breaking the status quo to better connect to your true self. I then headed from Denver to Loveland to speak at the Colorado Association of Libraries' Annual Conference where I spoke to library leaders about questioning the status quo in order to create better work environments.  I closed the month working with the International Association of Exhibitions and Events – Rocky Mountain Chapter. In this session, attendees participated in an interactive activity in which they identified the power they already have to break the status quo in their industry. 
Here are some testimonials from the events:
[The talk] helped me to identify that our department should take time and a step back and reevaluate why certain decisions are being made. Also this has got me thinking about how I can help inject DEI into those decisions.
This presentation was AMAZING! As Nikki said, your environment will force you to change, but it may not be the best change for you. I want to make my own changes that lead me to a better life.
[The presentation inspired me] to spend more time addressing the mediocrity – I can identify it, but addressing will really make a difference.
I enjoy speaking to audiences and giving the space, time, and creativity to imagine what their lives would be like if they broke free of the status quo.
For more information on ways in which I can motivate your team, follow along on Instagram, YouTube, and TikTok. For more information on board governance and strategic facilitation, follow along on Instagram. Nikki McCord is the founder of McCord Consulting Group & McCord Speaks, the only choice for organizations looking to energize, innovate, and pursue new paths beyond the status quo.