Let's Not Get 'Back to Normal'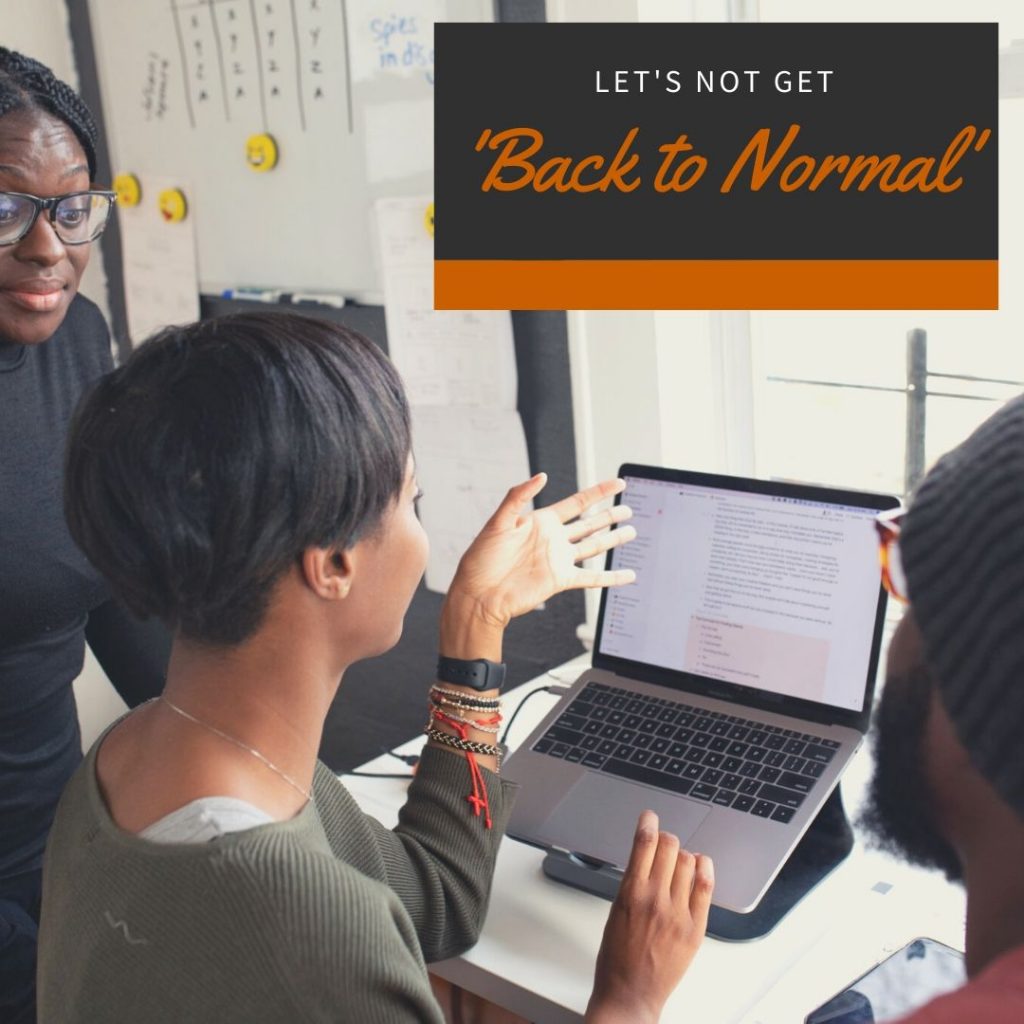 As the country opens up after being on lockdown from the COVID-19 pandemic, there are many people and businesses that are ready to get 'back to normal'. As you take steps to reopen your organization, I challenge you to abandon the term 'normal' and look to ways in which you and your business will operate in this new landscape, taking in consideration the lessons learned during this period of newness and change.
For Black Americans, there is a certain fear that comes from the understanding that life will be going back to the way it was before COVID-19 changed the world for us all. There was a certain relief that maybe Black Americans could navigate the world more safely now that everyone was encouraged to stay in their own homes. A return to normal signals a return to a manner in which many Black Americans navigated public spaces. And that return to normal has a negative connotation.
A return to normal means a return to the fear of being killed by the police while in the confines of your own home. It's normal because it happened to Breonna Taylor and Atatiana Jefferson and Aiyana Jones and Fred Hampton. A return to normal means a return to the  fear of being chased down and killed by an angry mob while existing on a neighborhood street. It's normal because it happened to Ahmaud Arbery and Tamir Rice and Trayvon Martin. A return to normal means a return to the fear of being suffocated and killed by the police while your neighbors can do nothing more than videotape your death. It's normal because it happened to George Floyd and Eric Garner.
As you reopen your business and invite customers and employees back into workspaces, let's relinquish the idea that we will be returning to anything we were in the past. Let's take the lessons we've learned these past few months to be creative about what we can do to provide spaces that take into consideration how 'normal' wasn't working for lots of people. And let's design new policies, environments, and ways of doing business that give space and opportunities to those who weren't 'normally' granted those allowances. I hope we don't return to normal. I'm excited to see what we're about to create!
For more information on board governance and organizational diversity, follow along on Twitter or Instagram. Nikki McCord is the founder of McCord Consulting Group, the only choice for organizations looking to energize, innovate, and diversify their boards and organizations.