Your Minority Board Director Departed. Now What?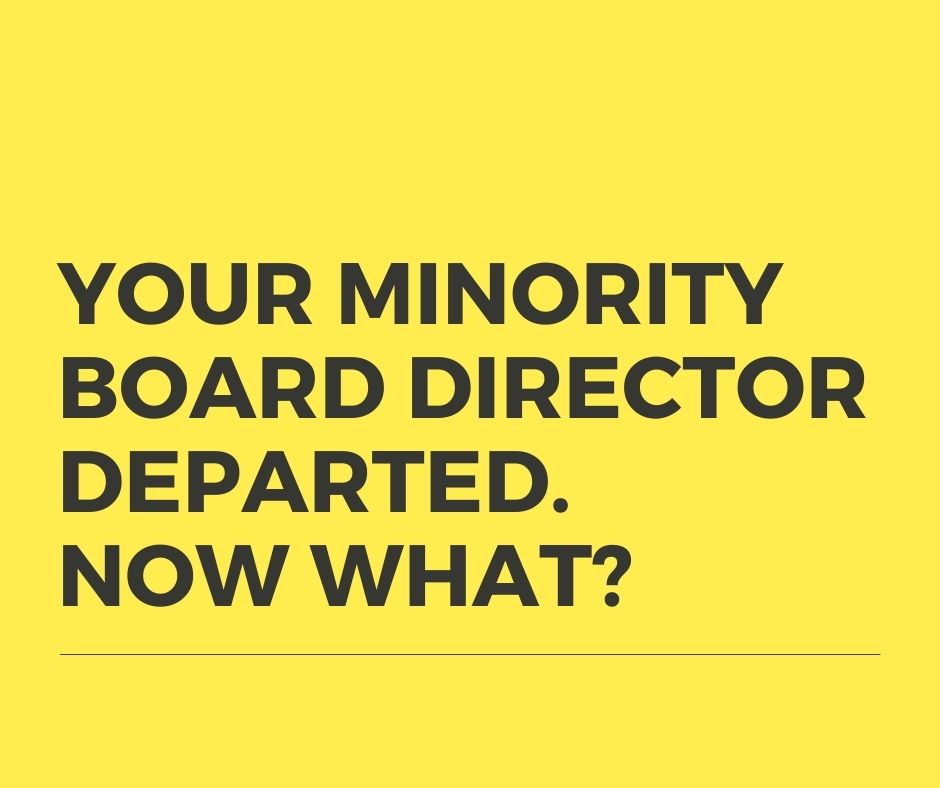 In March 2020, Kenneth Chenault, Facebook's first Black board director exited the board. Some say the move was a shifting of deck chairs, Bill Gates left his position on the Berkshire Hathaway board and Chenault took Gates' former position. However, others say Chenault was frustrated with Facebook founder, Mark Zuckerberg, not taking his counsel on governance and administrative issues – especially related to the 2020 Presidential Election. Chenault was asked to join Facebook's board in 2018 after it received criticism for its lack of racial diversity. Facebook appointed its first Black female director, Peggy Alford, in 2019.
What should your organization do when your minority board director leaves the board – especially before their term is over?
Exit Interview
If your minority board director leaves the board before the end of their term, it is important to conduct an exit interview. This interview should be conducted by someone on the board who has trust with the departed board director. Ask what caused the director to leave and what could have been done to get the board director to stay. Perhaps the board director saw a better opportunity, like Chenault leaving to pursue the opportunity at Berkshire Hathaway. If the departed director provides recommendations on improvements, it is important for your organization to pursue these changes.
Regular DEI Training
It is important for your organization to engage in regular DEI training sessions. If a minority board director leaves before their term is complete, take an assessment of your most recent DEI engagement. If your board has never engaged in DEI training or it has been more than two years since your last training, use this departure as an opportunity to re-engage your board's DEI training. In many instances, your minority board director is the *only* minority director. Ensure your board environment is inclusive for all directors, especially your minority directors.
Don't Give Up
Last, don't give up. Whether your minority director left because they felt as though they were not being heard, or if they left to chase a better opportunity, this is a signal that your organization still has work to do to create an environment that is conducive for diversity. Evaluate your board matrix and continue to recruit for minority directors who can fill the gaps in skills on your board. The sudden departure of your minority board director is an opportunity for your organization to regroup, learn, and re-engage. If your goal is diversity, you won't stop your efforts until you reach your goal.
For more information on board governance and board diversity, follow along on Twitter or Instagram. Nikki McCord is the founder of McCord Consulting Group, the only choice for organizations looking to energize, innovate, and diversify their Board of Directors.