African American Firsts in the Federal Government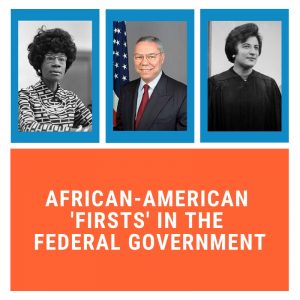 As of this writing, the federal government has reopened until February 15, 2019. 800,000 federal employees were not paid for over a month during our nation's longest federal government shutdown. I feel deep sorrow for the employees and contractors who were affected by the shutdown. I hope they all receive their back pay and an agreement to permanently reopen the government is reached soon.
This Black History Month, let's look at some of the accomplishments of Black Americans who served their country in all three levels of the Federal Government.
Legislative Branch
Shirley Chisholm – Unbought and unbossed
Representative Shirley Chisholm was the first black woman to do many things. In 1968, she was the first black woman elected to the U.S. Congress, representing New York's 12th congressional district. In 1972, she was the first black candidate for a major party's nomination for the President of the United States and the first woman to run for the Democratic Party's presidential nomination.
Her first committee assignment as a Congresswoman was to the Agricultural Committee. At first, Rep. Chisholm felt slighted. NY-12 encompasses parts of Brooklyn and Queens and is not known for its agricultural strength. She questioned how she could adequately represent her mostly urban constituents. But, like countless black women before her, Rep. Chisholm took a committee assignment meant to tarnish her shine, and created an opportunity to help not only her constituents, but millions of American. Through her membership on the Agricultural Committee, Shirley Chisholm worked to expand the food stamp program and played a critical role in the creation of the Special Supplemental Nutrition Program for Women, Infants and Children (WIC) program.
Executive Branch
Colin Powell
General Colin Powell, four star General, Commander of the U.S. Army Forces Command, and Chairman of the Joint Chiefs of Staff (the highest military position in the Department of Defense) is also (after unanimously being confirmed by the U.S. Senate) the first African-American Secretary of State serving under President George W. Bush. Powell currently sits on the Board of Directors for Salesforce.com.
Judicial Branch
Constance Baker Motley 
Judge Motley was the first African-American woman appointed to the federal judiciary, serving as a United States District Judge of the United States District Court for the Southern District of New York. Previously, she was the first African American woman to sit in the New York State Senate. One of her most notable decisions as a judge was a ruling that a female reporter must be allowed into a Major League Baseball locker room. Since her decision, clubhouses, front offices, leagues and coaching positions have opened up for women.
For more information on board governance and board diversity, follow along on Twitter or Instagram. Nikki McCord is the founder of McCord Consulting Group, the only choice for organizations looking to energize, innovate, and diversify their Board of Directors.