Community Job Growth and Board Recruitment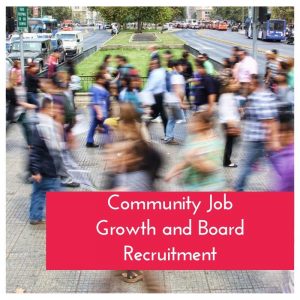 Many cities are experiencing job growth across the country. While communities grapple with decisions on how to adapt to this growth in jobs and people, nonprofits see this growth as an opportunity to recruit diverse board representation. When people move to a new area with no established roots or networks, they seek a way to connect to their new community. Board service gives new transplants a sense of accountability to serve in a way that uplifts their new community. 
Organizations like Seattle Works connects new employees to community board service opportunities. Seattle Works provides trainings at companies like Facebook and Microsoft, giving new employees training on the duties and responsibilities of board directors. After new employees complete the training, local nonprofits are invited to meet the graduates in an effort to invite them to join their boards. 
If your organization is looking to recruit new board members, work with local organizations in your community to provide training to new community members. For more information on board governance and board diversity, follow along on Twitter or Instagram. Nikki McCord is the founder of McCord Consulting Group, the only choice for organizations looking to energize, innovate, and diversify their Board of Directors.