Inclusivity During Cultural Heritage Celebrations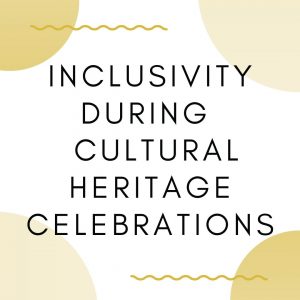 I was struck by two Facebook posts in January and February. One, celebrating Dr. Martin Luther King, Jr. Day, featured an event amplifying the voices of undocumented individuals. It was difficult to make the connection between the civil rights of African-Americans, who Dr. Martin Luther King, Jr. was murdered fighting for, and the civil rights of undocumented individuals. The second post celebrated Black History Month with the history of Latinx individuals in the City of Boulder. There seemed to be no connection to Afro-Latinx or African-Americans in the advertisement. In an effort to be inclusive, both events excluded the individuals for which the celebrations were originally intended. Dr. Martin Luther King, Jr. Day didn't become a federal holiday until 1986, nearly 20 years after it was introduced to Congress by Rep. John Conyers (D-MI). The day wasn't recognized by all states until 2000. Senator John McCain (R-AZ) voted against the day being a federal holiday. Before his death, McCain stated he regretted his 'no' vote.
Black History Month began as Negro History Week. Started by African American Carter G. Woodson and other prominent African Americans, the 1926 genesis of Negro History Week was to promote achievements by black Americans and other peoples of African descent. The second week of February was chosen to coincide with the birthdays of Abraham Lincoln and Frederick Douglass. By the late 1960s, Negro History Week evolved into Black History Month on many college campuses. Since 1976, every U.S. president has officially designated the month of February as Black History Month.
Intersectionality
So, what should your organization do if it wants to celebrate more than one culture during a particular culture's heritage celebration month? This is where intersectionality comes in. In 1989, Professor Kimberlé Crenshaw coined the modern understanding of 'intersectionality' to describe how race, class, gender, and other individual characteristics "intersect" with one another and overlap. So, if you want to celebrate a black individual during Pride Week, you may honor Audre Lorde, the acclaimed black lesbian poet. If you want to celebrate a Latinx individual during Black History Month, you may want to honor Celia Cruz, who identified as being Afro-Latina. If you wanted to celebrate a woman during César Chávez Day, you may want to honor Dolores Huerta, who launched the National Farm Workers Association with César Chávez.
Inclusivity is fantastic when it is done thoughtfully. When groups and their history are erased in the name of inclusivity, an organization is doing more harm than good. When thinking of how best to celebrate cultural heritage months, work with organizations that specialize in diversity and inclusion work, like McCord Consulting Group, to ensure your celebration honors those it was intended to honor.
For more information on board governance and organizational diversity, follow along on Twitter or Instagram. Nikki McCord is the founder of McCord Consulting Group, the only choice for organizations looking to energize, innovate, and diversify their boards and organizations.