Show Diversity & Inclusion the Money!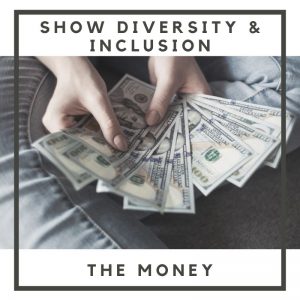 Recently, I was in a room where attendees were asked, generally, topics about which they cared. As we went around the room, decision maker after decision maker stated they cared about diversity and inclusion. If we were playing a drinking game, I would not have been able to safely drive myself home if I took a drink every time I heard the words diversity and inclusion. 
I have several questions for you, dear reader, if you say you care about diversity and inclusion within your organization.
Do you know how much diversity and inclusion education programming for an organization of your size costs? 
How much of your budget is allocated to this pursuit? Is it 0.01% of your total budget? Is it 35% of your total budget? Do you know what type of services you can receive for 0.01% of your budget versus 35% of your budget? 
Do you know where the allocated diversity and inclusion education dollars are coming? Are these funds included as a line item every year within the budget? Are you applying for a grant to address diversity and inclusion in one year, or for multiple years?
Have you woven diversity and inclusion education into your strategic plan so that staff from all levels of the organization are receiving training on a regular basis?
Here's the takeaway. If you want real results around diversity and inclusion for your organization, you must create a real budget to address these issues. 
So, if you are unsure how to answer any of the above questions, you're very lucky to be reading this newsletter! Reach out to McCord Consulting Group so that your organization can graduate from talking about diversity and inclusion to implementing long term strategies that make diversity and inclusion a true priority for your organization. 
For more information on board governance and organizational diversity, follow along on Twitter or Instagram. Nikki McCord is the founder of McCord Consulting Group, the only choice for organizations looking to energize, innovate, and diversify their boards and organizations.