Mandating Gender Parity on Boards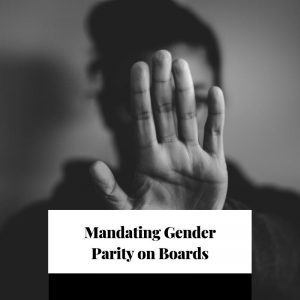 In 2018, the state of California took a bold stance. The state became the first in the nation to pass a law that requires publicly traded companies to include women on their board of directors. This law is a baby step forward in making boards more diverse and equitable. The act requires corporate boards, by the end of 2019, to have a minimum of one female director if the total number of directors is four or fewer by; and by 2021 two female directors if the corporation has five total directors; and a minimum of three female directors if the corporation has six or more total board members. The California Secretary of State has the authority to fine those companies that are out of compliance.
While some argue quotas and punitive measures aren't effective ways to encourage companies to embrace diversity, others argue that companies that are decades old and haven't figured out how to have representative gender diversity among their board directors need a gentle squeeze of the spurs to get the horse moving.
Judicial Watch is a conservative, non-partisan educational foundation that promotes transparency, accountability and integrity in government, politics and the law. They have challenged the constitutionality of the law, stating that, since the law is unconstitutional, "any expenditure of taxpayer funds or taxpayer-financed resources enforcing or otherwise carrying out the quota system is illegal." The authors of the law are not surprised by the legal challenge, but wish companies would spend their resources finding ways to become more diverse rather than spend their resources fighting diversity in court.
While the research concludes that organizations with gender diversity have greater profits, the authors of the legislation also believe that having more women in power could help reduce sexual assault and harassment in the workplace. What is the gender diversity on your board? Does your board currently meet the standards set by California? If not, what measures are you taking to ensure there is gender parity? If you do have gender parity, what other types of diversity are you striving to encourage on your board? What are the results of those efforts?
For more information on board governance and board diversity, follow along on Twitter or Instagram. Nikki McCord is the founder of McCord Consulting Group, the only choice for organizations looking to energize, innovate, and diversify their Board of Directors.