Shake Things Up When Choosing a New Organizational Leader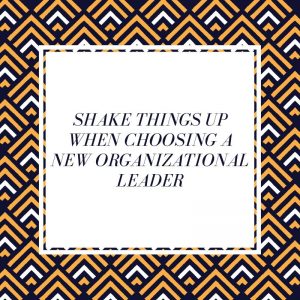 Ngozi Okonjo-Iweala is an impressive woman. She is the former Finance Minister of Nigeria and was a World Bank development economist, eventually being promoted to Managing Director – the number two position at the World Bank. Earlier this year, she was considered a front runner to head the World Bank after former President Jim Young Kim resigned three years before his term finished. Okonjo-Iweala would have also been an exciting choice as the World Bank has been led by Americans since its founding at the end of World War II. Ultimately, the Board of the World Bank unanimously voted to elect David Malpass to the position of President. Despite the unanimous vote, Malpass has previously stated that the World Bank is misguided in its practices and swollen in its expenses. Even though the World Bank had an opportunity to break tradition and elect a non-American, the board instead unanimously elected a person who has criticized the institution in which he now leads. 
Choosing a new organizational President is one of the duties of a board of directors. In this day and age it is not expected that anyone will remain in their position for 25 years, like in the past. Therefore, it is more likely that a board director will be in a position to choose a new leader. As a board director, consider candidates who are radically different from the previous leader. Interviewing and selecting a candidate who may take the organization in a new direction is scary and requires complete support from the board. However, this difference also allows for diversity and a break from the normal. A nontraditional candidate has the ability to expose your organization to new ideas, new constituents, new donors, and a new way of thinking about solving your organization's challenges. When selecting a new leader for your organization, don't be afraid to shake things up.
For more information on board governance and board diversity, follow along on Twitter or Instagram. Nikki McCord is the founder of McCord Consulting Group, the only choice for organizations looking to energize, innovate, and diversify their Board of Directors.