So You Want to Talk About Race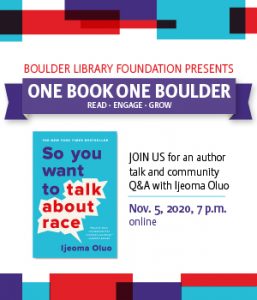 I am excited to work with the Boulder Public Library to facilitate a discussion about Ijeoma Oluo's book, So You Want to Talk About Race. Ms. Oluo will be providing an author talk in November. My session, A Deeper Dive into Examining Questions from "So You Want to Talk About Race" will examine questions Oluo poses to readers about direct actions they can take to learn more about the impacts of racism. Participants will engage in activities that will explore their own privilege and power, provide real-world applications, and empower them to graduate from listening to acting.
All are welcome to participate by registering using the link here. 
For more information on board governance and organizational diversity, follow along on Twitter or Instagram. Nikki McCord is the founder of McCord Consulting Group, the only choice for organizations looking to energize, innovate, and diversify their boards and organizations.