Responsibilities of Board Directors – Financial Oversight
One of the responsibilities of a board director is to ensure the financial oversight of the organization. While many directors understand their duties as it relates to fundraising, it is important that a board director understands the financial health of the organization as well. This includes understanding the budget for the year, the sources of income for the organization, and where money is being spent. It's my opinion that many board directors shy away from budget duties because many people do not want to reveal their level of misunderstanding by saying something incorrect during the bu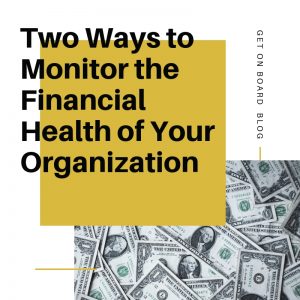 dget discussion. Here are two basic principles surrounding the budget process that board directors can adopt to ensure the long-term financial health of the organization.
Rely on the Finance Committee
No matter the size of the organization's board, there should be an established and active finance committee. The finance committee will review the finances on a monthly basis with a report made to the full board either monthly or quarterly. At a minimum, the board should receive balance sheets at least quarterly with a consolidated accounting of all assets and current liabilities. The finance committee will track income and expenses of the organization and how these figures line up with the yearly budget.
Invest in an Audit
The board should decide on a regular time period for the organization to be audited and also budget for this activity. Some organizations require a yearly audit while others may require a longer interval for regular audits. The audit should be performed by the audit committee, and the audit committee should be made up of members different from the members of the finance committee. This is because the audit committee is auditing the activities of the finance committee. If the finance committee also oversees the audit process, it is akin to the fox watching the hen house. To have a truly independent audit, the two committees should be separate and distinct.
A board director's focus on an organization's finances is important because it is a way to proactively monitor the organization so that it does not fall victim to fraud, embezzlement, or some other breach of the public trust.
For more information on board governance and board diversity, follow along on Twitter or Instagram. Nikki McCord is the founder of McCord Consulting Group, the only choice for organizations looking to energize, innovate, and diversify their Board of Directors.